CLICK HERE TO ACCESS RECORDED SESSIONS AND SLIDE DECKS
2021 Virtual Spring Conference Details
Welcome from ISPRA Vice President and conference chair Amanda Lewis (April 21, 9 a.m.)
Video presentation from ISPRA President Beth Strike
Introduction of conference sponsor, Quintin Graves, Blackboard
Keynote Speaker: Paul Osincup
"Stress is a Laughing Matter: Using Humor as a Coping Strategy"
The pandemic has made for a uniquely stressful year for school district staff and administrators. Tasked with communicating messages of care & compassion along with new protocols, procedures, and guidelines, all while questioning the safety of your family.
Believe it or not, one of the most effective tools to decreasing stress and enhancing our wellness is our sense of humor. When you're stressed, people often say "You need to laugh it off" or "Have a sense of humor about it", which is great, but nobody ever tells us HOW to do that.
Paul will teach you evidence-based strategies for how you can develop your sense of humor into an intentional tool to reduce your stress and boost your overall well-being & performance. Using a combination of proven strategies & research from positive psychology, neuroscience, and improv & stand-up comedy, you'll leave with numerous actionable ways to start using your own sense of humor as a mindfulness tool.
Paul Osincup is a Speaker and Positive Workplace Strategist who helps organizations create happier, healthier, and more connected places to work. With a background in higher education leadership and administration, in his previous roles worked with college students struggling with mental health and substance abuse issues. Paul served as a consultant to the U.S. Department of Higher Education Center for Alcohol, Drug, and Violence Prevention, and has worked with school administrators all over the country on behalf of several non-profit agencies.
Despite the serious nature of his work, Paul has also been a "Jack of all Jokes" since grade school. After building a career in comedy—and even winning a stand-up comedy contest in Denver—Paul became interested in the use of humor to lead, decrease stress, and boost resilience.
Now Paul is on a global mission for workplace happiness that has provided him the opportunity to work with hundreds of organizations around the world. Paul is a content creator for Happify, an app that provides evidence-based solutions for emotional health and well-being and a certified Stress Mastery Educator with the American Institute of Stress. His TEDx Talk: "Leading with Laughter, the Power of Humor in Leadership" has been viewed more than 400,000 times and he is the President of the Association for Applied and Therapeutic Humor, an international organization dedicated to the study and application of humor to enhance health and human performance. Paul's work has been highlighted in The New York Times, Forbes, and on his mom's refrigerator.
April 21, 11 a.m.
Advancing your Skills as a Strategic Advisor: Rethinking our Role to be More Effective
Bob Noyed, APR, vice president, CESO Communications
The most effective and strategic school communicators are doers and thinkers. We produce materials and messages and we help strategize options and plans. We have learned over the years that school who are involved with shaping strategy and messaging help their districts go further faster. It's the strategy – not the tactics – that are the foundation of all effective communication and bring deeper meaning and significance to our work. In this session, we will review what it's like to be a strategic advisor and share ideas on how to sharpen your strategic skills. We will also discuss how the the role of the school communicator has changed as a result of the pandemic and what we can do to take advantage of those changes.
April 21, 2:00 p.m.
Marketing 101 for School Districts: Building a Winning Student Enrollment System
Nick LeRoy, Founder, Bright Minds Marketing

Student enrollment is the lifeblood for any school or district. In this session we will cover macro trends that are impacting student enrollment and outline specific strategies and tactics that schools should implement to reach target audiences and move them from interested prospects to enrolled families more effectively. LeRoy was a marketing executive managing global brand campaigns and marketing initiatives before deciding to use his expertise to support private schools, and more recently, public schools. LeRoy has been instrumental in driving higher school enrollment so that schools remain financially strong and well positioned to serve their students, families, and communities. 

April 22, 9 a.m.
School PR DIY: Building The Right-Sized Communications Team
Chris Tennill, Chief Communications Officer, School District of Clayton (suburban St. Louis)
As school PR pros, we all wear so many hats. But how many is too many? And how do you know when it's time to bring someone else in to wear a few of those hats? Successful school PR teams/programs should be scaled based on what they do and the services they provide, not by the number of students in a school district. Join this interactive session and learn how to recognize when growing pains mean that it's actually time to grow and get some tips on how to bring in and scale up the human capital on your communications team.
April 22, 11 a.m.
What's Old is New: Why Photography is More Important Than Ever
Phillip Roeder, Director of Communications, Des Moines Public Schools
Photography, as a technology, is nearly two centuries old. And yet it is more important – and more omnipresent – than ever before. As education uses web sites, social media and other new media tools to share news and information, good imagery can matter as much as the right words. Phil Roeder is the director of communications for Des Moines Public Schools as well as a published and exhibited photographer (and, at an advanced age, is completing a BFA in photography). He will discuss why photography matters when telling the stories of our schools as well as some tips on taking better photographs and the right gear for your camera bag.
April 22, 2 p.m.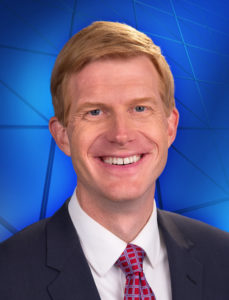 Unforgettable Storytelling: The Power to Win Hearts and Minds
Eric Hanson, KCCI TV News Anchor, Des Moines, IA
Every school building is bursting with stories: the innovative teacher who's sparking excitement, the successful student who's overcoming challenges and the dedicated staff member who brightens everyone's day. How do you identify the stories worth telling? And how do you effectively tell those stories in a way that can get your entire district talking? Eric Hanson has been telling the stories of central Iowans on KCCI-TV for more than 20 years. His memorable "This is Iowa" stories have focused on many students, educators and parents. Discover Eric's storytelling process and learn how you can tell the same stories to engage your district's audiences.
April 23, 9 a.m.
ISPRA Member Business
Iowa School Public Relations Association Board
Members are welcome to join the Iowa School Public Relations Board for a chapter update, vote for new officers, and talk about upcoming opportunities to grow with ISPRA.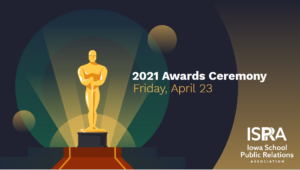 ISPRA 2021 Virtual Awards Ceremony – Friday, April 23, 11:30 a.m.
You've worked hard (really hard!) over the last two school years to provide everything your district needs to be successful. Now it's time to celebrate your success! Please join us for a lunchtime virtual celebration.